Propellers    |    Steering    |    Fuel Lines    |    Oil Changes    |    Spark Plugs    |    Lower Unit Servicing
Outboard Repairs & Maintenance
Mobile outboard repair services provided by master marine mechanics.
A well-maintained outboard means worry-free days on the water with friends and family—every time you leave the dock.
Our top-trained marine mechanics keep your motor running at its peak performance. From routine oil changes and fresh spark plugs to quickly fixing an engine that won't start, our mobile team delivers peace of mind right at your dock.
or scroll down for more information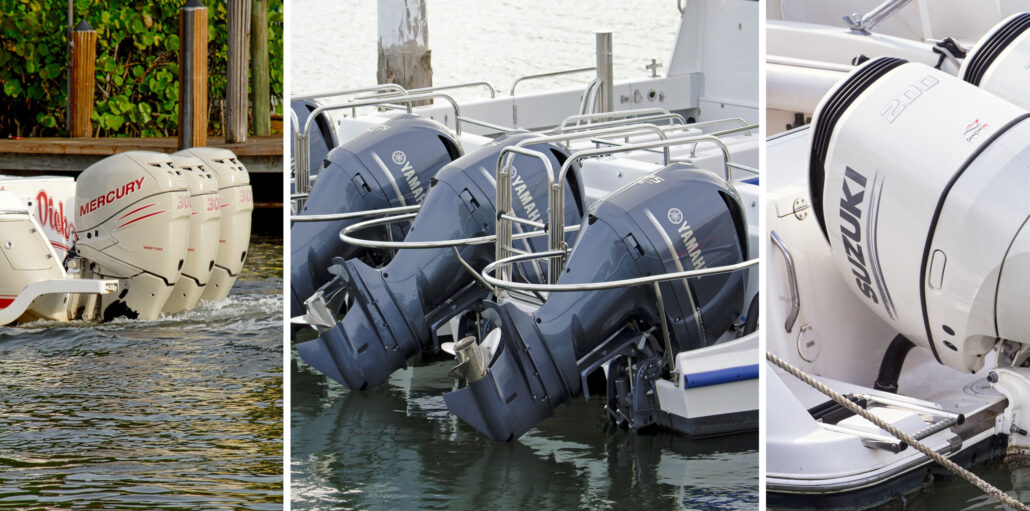 Finding an experienced marine mechanic can be the difference between a weekend playing on the water or being stranded on the water.
It can also be the difference between getting a professional repair that won't need to be touched again or a project that snowballs.
Let Onyx efficiently diagnose and complete your outboard repair the first time, so you will have no reservations when you untie the lines.
We come to you and work on all outboard brands, including Mercury, Yamaha, and Suzuki.
Outboard Overheating?
Whether you have sucked up seagrass and clogged the raw-water cooling system, or you need a new impeller on the water pump, we will find the problem and quickly get you back out on the water.
Outboard Not Starting?
Stepping aboard your boat and finding that you can't start the engine is the last thing you want.
The reasons could include the carburetor, fuel injection system, fouled plugs, the battery… Knowing where to start and how to efficiently troubleshoot your outboard repair is what sets our experienced mechanics apart.
Running, but not well?
Cutting out at idyl or after throttling up are signs your motor needs attention.
Clogged fuel filters, dirty spark plugs, loose connections, and disintegrating fuel lines can all play a part in your engine not running at its best.
Sporadic or intermittent symptoms can be challenging to diagnose. However, our knowledgeable professionals can make quick work of troubleshooting your outboard repairs.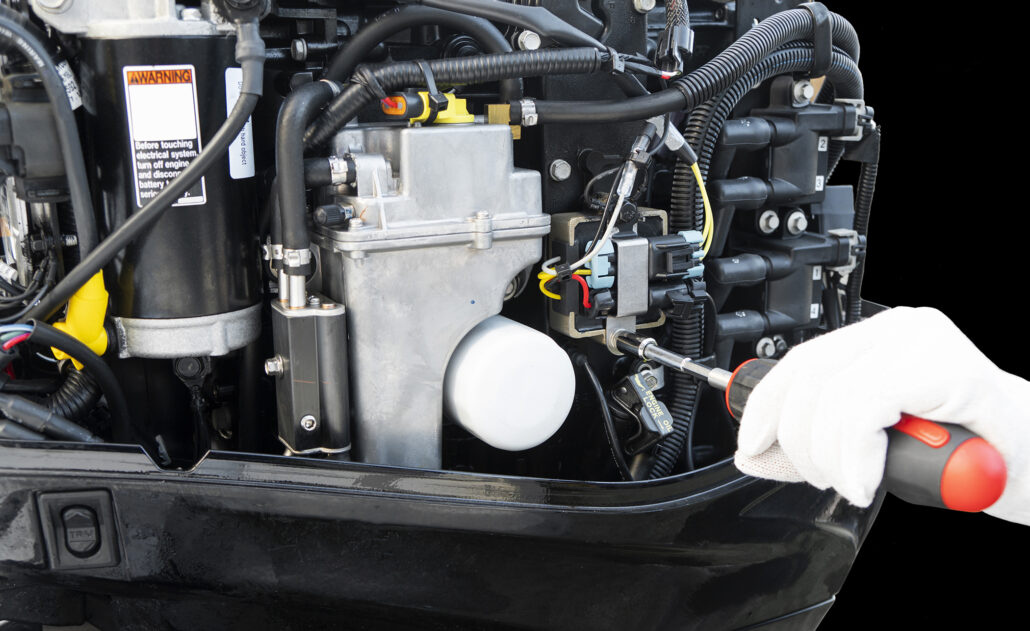 Stiffness or 'play' at the helm?
Corrosion of steering cables or low hydraulic fluid in your steering system can make controlling your boat difficult—especially in tight areas like a marina where you need precise control.
Onyx's mechanics are skilled at troubleshooting and repairing both mechanical and hydraulic steering systems.
Propeller Damage?
Winding a fishing line around the prop can cause as much damage as running aground. Only, you might not see the damage immediately.
We remove your propeller and inspect for unseen damage, lubricate, and replace the propellor or pin as needed.
Mobile Outboard Maintenance
Keeping up on regular maintenance will ensure you get the longest life out of your outboard, lower your fuel consumption, and reduce the overall cost of ownership.
Our master mechanics provide a full range of outboard preventative maintenance and scheduled services, so you won't miss a day on the water.
We service all outboard models and make service effortless by coming to your boat. After our visit, you'll get a full report of what we did, our findings, and photographs to help illustrate our services.
Scheduled Outboard Services
50/100/300-hour services ensure your motor is in perfect repair from the start, so you will have a long-lasting, reliable engine. Our skilled mechanics follow factory-recommended services for your model.
We will come to you so you won't have to bring your boat to us.
Oil and Filter Changes
The most essential maintenance for your outboard is to make sure that it stays properly lubricated. Clean oil and clean filters can have a dramatic impact on the lifespan of your motor. Our trusted mechanics can help you with regularly scheduled oil changes and fuel filter changes.
Spark Plug Replacement
Checking the condition of your spark plugs every 100 hours for the life of your engine will prevent unwanted breakdowns. As part of our maintenance schedule, we inspect your plugs and replace them as needed or as your motor manufacturer recommends.
Lower-unit servicing
Saltwater is a harsh environment, and keeping your lower unit properly lubricated is vital to the life and performance of your outboard.
Your lower unit servicing will include corrosion inspection and cleaning, changing of gear lube, and replacement of anodes as needed.
Plus, your prop will be pulled, inspected, greased, and reinstalled with a new cotter pin.
Steering, Fuel, Trim & Tilt
Comprehensive maintenance plans also care for your steering, fuel, and trim & tilt systems.
We check all lines for chafe and deterioration. Fittings are examined for sealing and corrosion. Filters are changed and cleaned. And fluid levels are checked and filled.
You'll always get a full report with photographs of our inspection findings as part of our commitment to enhanced service.
Contact Our Marine Specialist Today!
An Onyx specialist will contact you within an hour after submitting a request.
If you prefer, please call